Where are my pants? is a TV show in The LEGO Movie. 
The LEGO Movie
Emmet is seen watching this in his house at the beginning of the movie and it is broadcasted from the Octan Tower.
The LEGO Movie 2: The Second Part
Though not shown, the show is referenced through "The Man Upstairs", who asks his wife where his pants are from off-screen.
Cast/Characters
Description
The show basically features a man saying "Honey, where are my pants?" while his head rotates trying to look for said item while his wife is sweeping the floor.
Trivia
Along with "Everything is Awesome", it is used by Finn's father as an instrument to distract everybody in Bricksburg while he plots to Kraglise everything together with his super-weapon.
The wife of the guy who lost his pants is seen dusting his pants in the film.
Later in the film when Emmet goes to Octan Tower is shows the filming of the "Where are my pants" TV show.
Gallery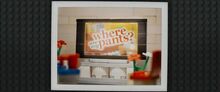 Gallery
Click here to view the image gallery for Where are My Pants?.
Click here to view the gallery.