The Old West is a realm in The LEGO Movie, a lot of action happens in this realm.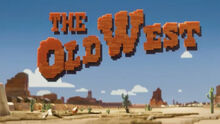 Emmet and Wyldstyle go in it after they go in one of the secret tunnels, they dress up as old west characters and meet Vitruvius in the Building or Bar and they go Into Vitruvius' room after that.
After this, Bad Cop comes in and gets help from Robot SWAT bots and Vitruvius, Emmet, and Wyldstyle get chased for a couple minutes in the movie (Emmet's first master builder build is shown).
They crash into a train and Bad Cop/Good cop chases them, (Bad cop's new Vehicle mode is first shown) they get rescued by Batman and take another secret tunnel into Middle Zealand.
Inhabitants
Category